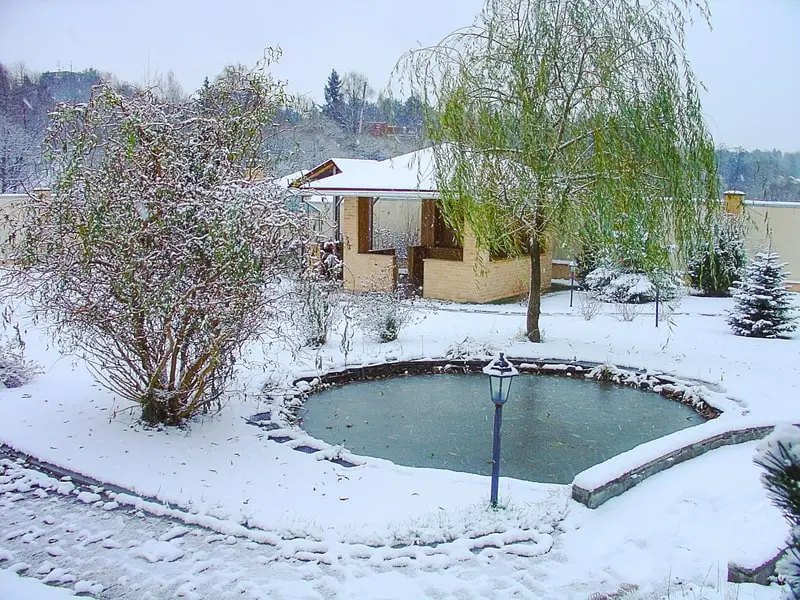 Winter management for your fish is crucial if you reside in a colder climate. If you have koi, you'll want to make sure they hibernate comfortably over the winter months, as the hibernation cycle extends their lifespan. That said, what are some of the best pond heaters that will hit that hibernation sweet spot for your koi fish?
Aquascape 39000 Pond Heater And De-Icer
K&H Pet Products Thermo 3.0 Pond De-Icer
TetraPond Thermostatically Controlled De-Icer
Laguna Power Heat Pond De-Icer
K&H Deluxe Climate Pond De-Icer
API Guarded Floating De-Icer
Farm Innovators Model PS-200 Pond De-Icer
When your pond ices over, it puts the life of your pond fish in jeopardy. Fish are occasionally taken inside for the winter by folks with smaller ponds, but those of us with more extensive ponds do not have this choice. Thus, investing in an excellent pond heater is the simplest solution. So, what makes this list of pond heaters the best?
7 Of The Best Pond Heaters For Koi Fish
Outdoor ponds are fantastic to have, especially when they contain koi, other fish, and other creatures. With that stated, if you reside in an area where it gets to freezing temperatures, you will have some difficulties. In the winter, the surface of your pond will ice, which can cause problems.
Now, the ice itself may not pose a significant threat to your pond, at least in terms of temperature. The accumulation of gasses and lack of oxygen, on the other hand, is a severe problem for your Koi fish.
As a result, you'll need to invest in a quality pond warmer, often known as a pond de-icer. So let's get right to it and look at some of the top pond warmers and de-icers on the market today, starting with the Aquascape brand.
Aquascape 39000 Pond Heater And De-Icer
Amazon rating: 4.3 of 5 stars
The reputed Aquascape 39000 Pond Heater And De-icer is first on the list. Aquascape is a pond equipment company founded by pond builders that specialize in efficient and effective koi pond kits and pond equipment.
The 39000 Pond Heater has a design that was created to use as little energy as feasible, and it also has a built-in thermostat that determines when it should be on or off. In addition, this pond warmer has an LED light that turns on, so you'll know when it's working.
So, to be clear, the Aquascape 39000 Pond Heater and De-icer is a floating pond de-icer designed to maintain a tiny opening open at the top of the pond free of ice. It cannot, however, be placed on ice.
Before the ice begins to develop, it must be placed in the water. The Aquascape 39000 de-icer is constructed of metal, namely stainless steel, which offers two distinct advantages.
It will not corrode or rust in water, for starters, and it is also quite durable. The 22-foot power cord eliminates the need for an extension cord and makes positioning this device in the proper location simple. It's really simply a metal pot with a top that warms up, and there's nothing wrong with that.
K&H Pet Products Thermo 3.0 Pond De-Icer
Amazon rating: 4.2 of 5 stars
Next, we have K&H Pet Products' Pond Heater and De-Icer. This bad boy can de-ice 1,000 gallons of water and only takes 100 watts of electricity and won't noticeably build a record on your utility expenses.
Thermo-Pond is a smart pond heater that keeps a hole through the ice in home ponds for about pennies a day. In fact, compared to high-wattage stock tank style de-icers, Thermo-Pond can save up to $30.00 per month in electricity. Consider this: Thermo-Pond pays for itself in just two months.
Thermo-Pond floats on top of the water and is thermostatically regulated to stay cool at all times. As a result, Thermo-Pond will never burn a pond liner or a plastic pond, unlike some other warmers. Instead, it allows the pond to naturally freeze over while still leaving a hole in the ice.
Allowing for gas exchange throughout the cold months can help maintain a healthy atmosphere. In addition, Thermo-Pond should only be utilized in deep ponds to have adequate existing water beneath the ice. Additionally, it is also MET-listed for safety.
The compact, lightweight design forms a small hole in your outdoor pond and keeps it clean day after day, and it comes with a built-in thermostat to prevent overheating.
The thermostat keeps the device from overheating and is ideal for smaller ponds. In addition, it's simple to put in and remove out of the pond due to its small size and lightweight.
TetraPond Thermostatically Controlled De-Icer
Amazon rating: 4.4 of 5 stars
The TetraPond is a simple pond warmer that runs on 300 watts and can withstand temperatures as low as – 20 degrees Fahrenheit. This heater's heat output is adequate, and it should be able to maintain a steady breathing hole open for your fish throughout the winter.
The hole produced in the ice is decent, but I found the heat distribution to be less than ideal; thus, it may not be large enough for more extensive koi ponds and is best suited for smaller koi ponds.
TetraPond's heater is simple to set up and comes with a 15-foot power line, so you should have no problems with the length and getting it up and running. In addition, the heater has a distinctive natural rock-style appearance that helps it fit in with the surroundings of your pond.
This, paired with its smaller size, makes it an excellent choice for a floating heater. The heater also features an automated thermostat system that monitors the water temperature and turns off the heater when it doesn't need to be used.
This heater has a 3-year guarantee and has shown to be dependable over several winters. Although it is preferable to put the heater before your pond freezes, it may also be placed on a frozen pond and gradually melt the ice and sink.
Laguna Power Heat Pond De-Icer
Amazon rating: 4.3 of 5 stars
Another good alternative is the Laguna PowerHeat Heated De-Icer, which is quite strong. It is a 500-watt de-icer so that it can handle icy conditions as well as large ponds. Although it is not highly energy-efficient, it is ideal for more extensive ponds.
It creates a massive hole in the ice, which is just what you want. Another feature of the LagunaPowerHeat Heated De-Icer is that it is both plant and fish-safe since there is no way for the internal components to come into contact with the water.
The Laguna De-shell icers are composed of solid stainless steel. It means steel won't rust, is highly durable, and has incredible impact resistance. It may not be the most attractive pond de-icer on the market, but it is robust, long-lasting, and effective.
The integrated LED light indicates whether the De-Icer is on or off. It contains dual-zone thermostats, which aid in precise heat distribution. When the temperature rises above freezing, it will switch off. To be clear, this is a de-icer for a floating pond.
K&H Deluxe Climate Pond De-Icer
Amazon rating: 4.0 of 5 stars
Say hello to another excellent de-icer from K&H; however, this one is a little less strong than the one we just looked at. It is a 250-watt pond heater de-icer, which produces half the power of the Laguna model. On the other hand, you may always go for the 750-watt or even 1500-watt model if you like.
The most excellent aspect of the K&H Deluxe Pond De-icer is that it can be used in submersible and floating ponds. You can change it from a floating to a submersible de-icer in a matter of seconds, and vice versa.
A thermostat regulates this device, which allows it to determine when it is essential to heat the water and when it is not. Although the temperature is not changeable, the K&H De-icer will keep the water at a constant temperature slightly above freezing.
Simply drop it in the pond, plug in the 12-foot cord, and let it do its thing. This device is about as simple to operate as it gets. For added safety, this pond de-icer is MET listed.
API Guarded Floating De-Icer
Amazon rating: 4.4 of 5 stars
The API 1500 Watt Floating De-Icer is an excellent choice to consider if you need a large and robust de-icer for your pond.
Yes, this heater is rated at 1500 watts, which implies it can handle relatively large ponds as well as freezing weather. In addition, this floating de-icer includes a built-in thermostat that shuts it off when not in use.
Because it is so strong, it is not very cost-effective or energy-efficient, but it does prevent huge ponds from completely freezing over, sparing all of your fish's lives.
The API De-Icer has a beautiful tiny floater that is completely wrapped in plastic, making it more sturdy and stable. In addition, metal rods protect the heating element, preventing it from damaging or injuring your fish.
These protectors keep the pond heater, the plastic tank, and the fish safe from the elements. Because it's a floating heater, you'll have to place it in the pond before the ice develops, but apart from that, there aren't many drawbacks. Unfortunately, it does not appear to be beautiful in the least.
Farm Innovators Model PS-200 Pond De-Icer
Amazon rating: 3.9 of 5 stars
Last but not least, we have the Farm Innovators Pond De-Icer Heated Saucer, which is a little smaller 200-watt pond warmer and de-icer. This model can only be used in ponds with a maximum capacity of 600 gallons and can withstand temperatures as low as -15 degrees Celsius.
As you can see, it isn't nearly as strong as some of the other heaters we've looked at thus far, but it gets the job done anyway. It has a low profile design, which is convenient because it provides less wind resistance and is also not very unsightly.
We enjoy how the Farm Innovators Heated Saucer uses very little power and is thus highly cost-effective. Furthermore, this device has a built-in thermostat that controls the temperature. In other words, it turns off when it is not in use, avoiding power waste and preventing overheating.
The 10-foot power chord is a little short, so you'll most likely need an extension cord, but apart from that, this de-icer is a great alternative to consider.
The Best Koi Pond Heaters: What To Consider
Before you run out and order the first pond de-icer you see, it would be best to consider a few crucial factors. So when purchasing a pond de-icer and warmer, let's go through the most crucial things to look for right now.
The Different Types Of Pond Heaters
You may buy three types of heaters: gas-fired boilers, inline electric water heaters, pond warmers, or de-icers. A gas-fired boiler boils the water in its system before circulating it via a heat exchanger. The pond water is also piped into the exchanger's second chamber.
Before being released into the pond, the pond water absorbs the heat of the hot water from the next chamber. Next, the pond water is driven into the heating chamber for the inline electric heater. The pond water then comes into touch with a heating element once more.
Before being discharged into the pond, the water is heated. Pond warmers or de-icers are the most popular since they are inexpensive and easy to transport. Floating and submersible de-icers are the two types of de-icers. A floating pond heater heats the surface of the water.
It keeps a large enough hole for efficient gas exchange. The submersible variant sinks to the water's bottom. By keeping a pond section ice-free, gas exchange can be facilitated. The most common option among customers, especially those with a small pond, is a pond warmer or de-icer.
Consider Tempreture Control
Pond de-icers do not usually have an adjustable temperature setting. They do, however, all need to be equipped with trustworthy thermostats. A competent pond de-icer can monitor the water temperature and switch on or off depending on whether the water will freeze.
The ideal temperature for a pond to run at varies significantly from one location to another. However, most pond owners think that fish must be kept at a specific temperature to survive.
On the other hand, the temperature does not have to be exceptionally high. As a result, most pond owners prefer a pond de-icer with a modest thermostat wattage. For example, if a pond is submerged, a 300-watt thermostat can efficiently keep it heated, and if it is floating, it can maintain a well-sized opening for gas exchange.
Consider The Durability Of The Pond Heater
Another aspect to consider is the long-term durability of the pond de-icer in concern. My particular favorites are those with solid stainless steel housing. They feature excellent impact resistance, are well-protected from the environment, and all internal components are entirely isolated from the water and your fish.
Conclusion
If you reside in a colder region, making sure your pond is ready for winter is crucial. That said, without a pond heater, there isn't much you can do about it if you have a pond and want your fish to live. All of the products I've included in this list are high-quality items that will do the job perfectly.
Furthermore, by following what to consider, you would eliminate most of the concern factors you may come across before purchasing the best pond heater for you. It is always great to be prepared and be one step ahead.