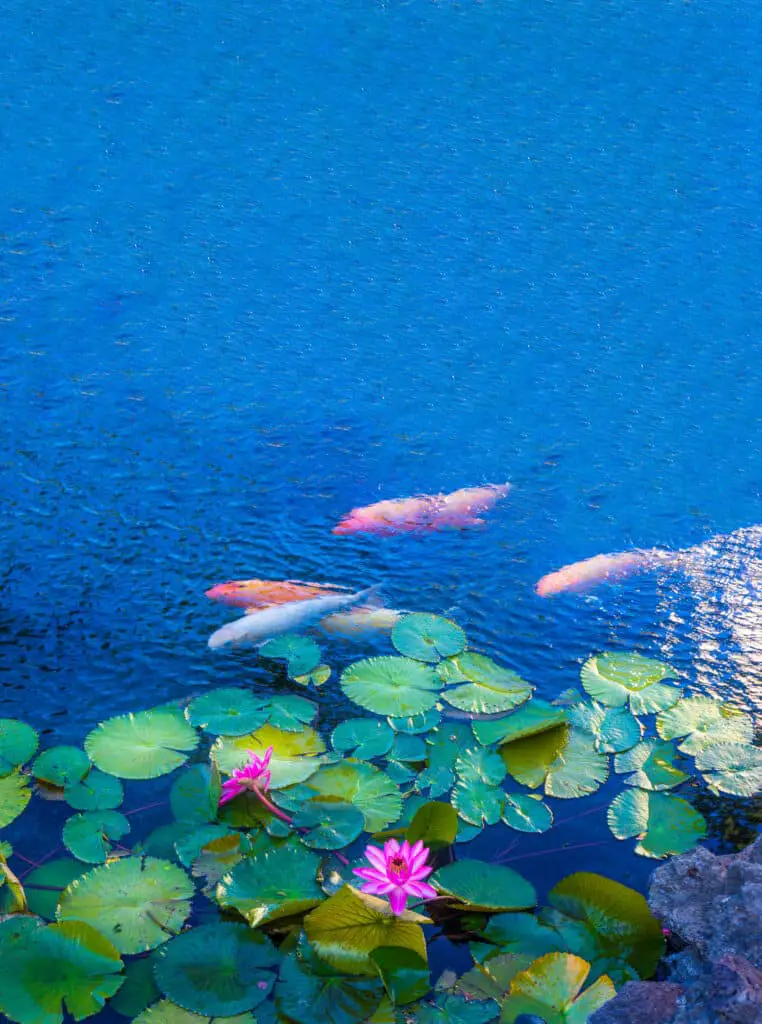 A koi pond is an exquisite addition to any garden, providing a peaceful and picturesque area in which to relax. It will attract other creatures, form a background for many plants, and enhance the value of your home. Building a koi pond on a slope can be quite daunting, but it's not that difficult once you understand the basics.
Building a koi pond is no harder on a slope than on level ground and will allow you to create a far more aesthetically pleasing feature. If you follow the tried and tested construction methods, your koi pond will be secure, leakproof, and easy to maintain. 
Once you've decided to build your pond, it's hard to know where to begin because of the many options available, but it's also an exciting project, so let's get started. We'll look at the types of koi ponds, the importance of positioning, and the materials to use and avoid. We'll also discuss the building methods used to ensure that your pond is the perfect home for your family of koi.
Pro Tip: If you're tired of wasting money and making costly mistakes on the koi-keeping hobby or are thinking about buying koi fish but don't know where to start, I strongly suggest you check out this ebook. I recently read this ebook, and it contains SO much useful information, such as: 
3 proven steps to identify koi fish diseases
WARNING: 3 things you should NEVER do when it comes to caring for koi
When to seek professional help when it comes to looking after your koi
Building A Koi Pond On A Slope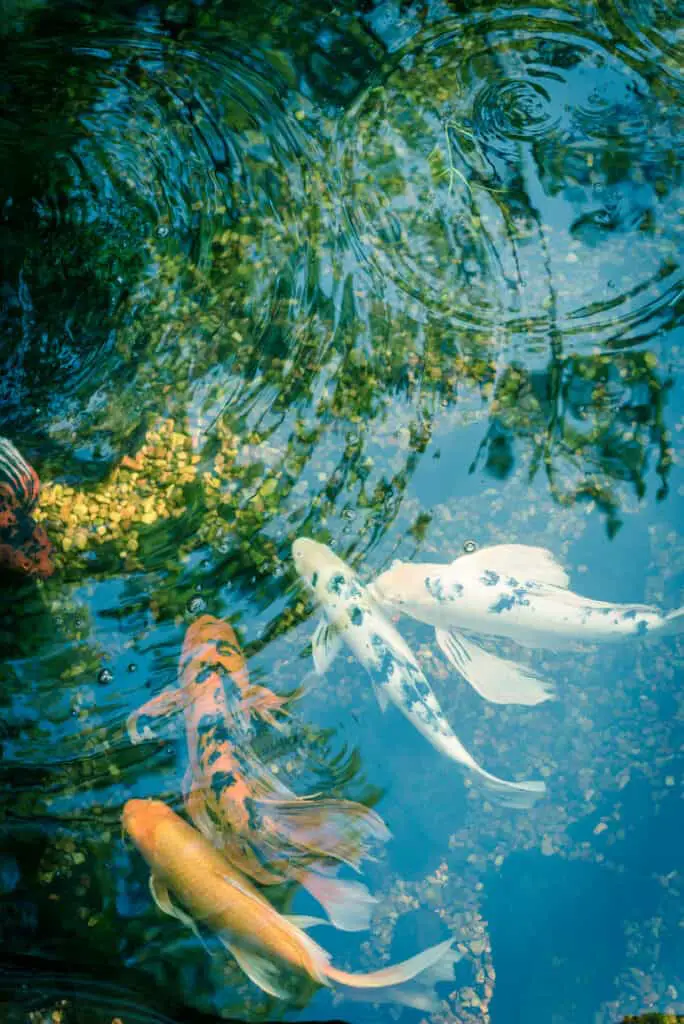 You need to choose which type of pond you'll install and decide on the position before you start building.
Whether you dig out the hole for a lined pond or use a pre-formed one depends on how much time, money, and labor you have available and how you want the final product to look.
Pros And Cons Of Pre-Formed Ponds
If this is your first pond, pre-formed koi liners provide the simplest and least expensive alternative. Available in fiberglass or plastic, they come in various shapes and sizes, are durable, and require only an adequately excavated hole with a level base for installation.
The pre-formed koi pond is easier to install, less likely to leak, and costs much less. In addition, they are portable, so if you move, they can be removed and reinstalled in your new home.
However, because they are smaller and shallower, it is not always possible to establish an eco-system of plants and fish. Shallow water tends to overheat in summer and may freeze in winter, so only the largest sizes are suitable for keeping koi.
Pros And Cons Of Custom-Made Ponds
A flexible liner allows you to design a pool of any size and shape and place it anywhere on the slope. There's much more work involved in installing this type of pond, but it will result in a unique, more attractive home for your koi.
Flexible pond lining is available either in RPE (reinforced polyethylene) form or EPDM, a synthetic rubber with high tensile and tear-resistant properties. Flexible liners are available in flat sheets and can be molded to fit any custom-designed cavity.
The disadvantages of flexible lining are that it is more expensive, harder to install, and more susceptible to puncturing, so it needs more maintenance. However, a larger pond using flexible lining is the best choice if you plan to raise koi.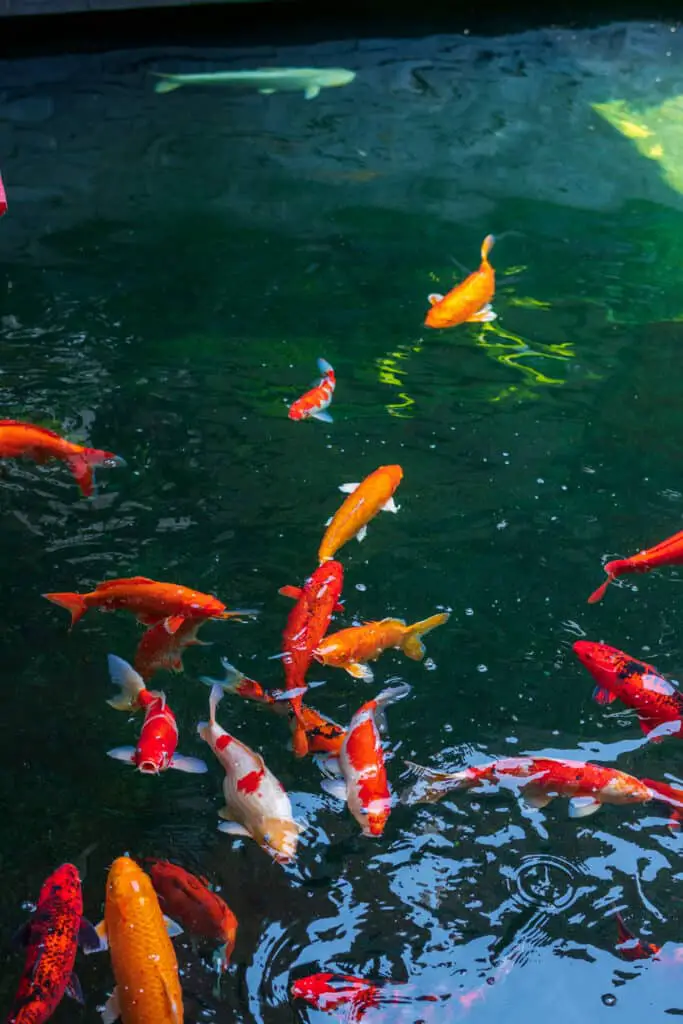 Positioning Of Your Koi Pond On A Slope
Before you start excavating, ensure you're clear of all utilities such as water and electricity supply lines. Then the positioning of the koi pond becomes a matter of personal choice, ensuring ease of access, visibility from your entertainment area, and aesthetic appeal.
If you're building your pond high on the slope, you don't need to be concerned about rainwater accumulating from run-off and flooding the pond, but if you're positioning it at the bottom, you'll need to have a spillway to take care of the excess inflow.
You might consider a tiered pond on two or more levels, with the higher levels feeding the others by constructed waterfalls.
Excavating And Building Retaining Walls
Assuming your pond will be large enough to carry a fair number of koi, there will be a lot of digging! Hiring a small mechanical excavator is a good idea and will save time and energy, so we recommend it.
The hole you dig must be at least twenty-four inches deep but allow for double that if possible. The ideal water depth for your koi pond is three to four feet. Your excavation should be a foot larger in each direction than the pond's final dimensions to cater to the thickness of the retaining walls.
You can either cut the full depth into the slope with a retaining wall at the back or build up the front of the leveled area to the full height required with a dam wall. The third alternative combines back cutting and front filling to create a pond partly below and partly above ground level.
The retaining walls could be constructed of treated timber if you want straight walls, or if you want curved walls, you could use concrete, concrete bricks, or even gunite. It is vitally important that whatever the material used, your retaining walls have sufficient strength to contain the considerable weight of water in the pond.
Leveling The Pond Base
When installing a pre-formed pond, the base must be level and free of stones and protrusions that could damage the pond's floor. You can achieve a secure level base by placing a layer of well-compacted sand over the excavated ground.
A custom-made pool with a flexible lining does not require a completely level base, and a slight fall from the perimeter towards the center of the pond floor will assist in filtration and drainage (more of this later).
Required Equipment For The Koi Pond
Think of your koi pond as a swimming pool for fish, with all the standard equipment required for clean, healthy water circulating in and out of the pond, including:
A bottom drain fitted with a pre-drain filter
A biological filter and pond skimmer
A suitably sized pump to manage the volume and design of your pond. A strong pump is essential if your water must be circulated back up the slope before re-entering the pool.
A 3-way valve to allow for backwashing, draining, and circulating the water in the pond
Weatherproof housing for the pump and valve
Flexible PVC piping connecting filter, skimmer, pump, and pond
This equipment is in addition to all the materials needed for the construction process, which will vary depending on your design and construction method.
Conclusion
There's so much more that you can do to beautify the basic construction of your koi pond, including building seating and flower boxes around the perimeter, using dressed stone to decorate the retaining walls, or including waterfalls and fountains. The only limitation is your imagination!
Building a koi pond on a slope is more common than you may think and is not any more difficult than constructing one on level ground. Provided that you plan the construction meticulously, buy the best quality materials, and are prepared to put a lot of energy into building, you will find it an enjoyable experience that will give you enormous satisfaction when you view the finished product.
References
https://landscapingplanet.com/3-effective-ways-to-level-a-pond-on-a-slope
https://mbc-web.org/how-to-build-a-koi-pond-on-a-slope
https://russellwatergardens.com/pages/how-to-build-a-koi-pond
https://yalna.org/how-to-build-a-koi-pond-on-a-slope