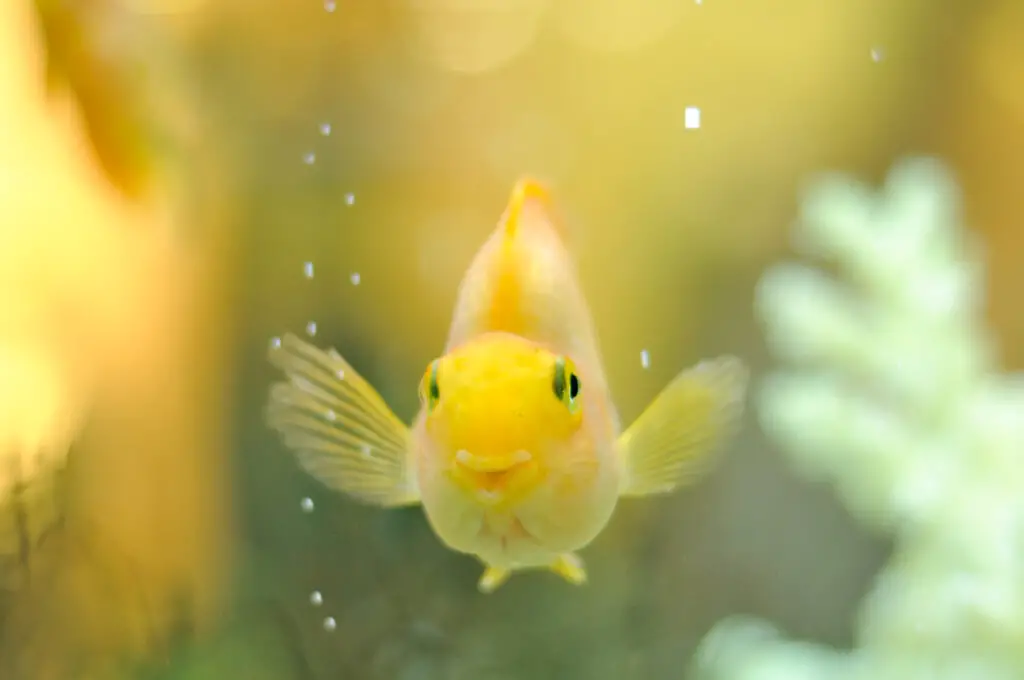 While some fish enthusiasts find the parrot fish fascinating and somewhat cute, some find its manmade origins monstrous. Koi, conversely, are prized for their beauty even though they are also hybrids, developed from cross-breeding of amur carps. 
For these two friendly fish, water conditions alone make them unviable tank mates that should be kept separate. Both species are omnivorous, eating the same base foods. Still, due to size, water hardness, and temperature, parrot fish and koi are better suited to their separate environments.
Parrot fish species are already a highly controversial subject, and whether they can live with koi is another debated topic. We look into why these fish are not compatible tank mates and why each is better off in its own separate environment.
Can Parrot Fish Live With Koi?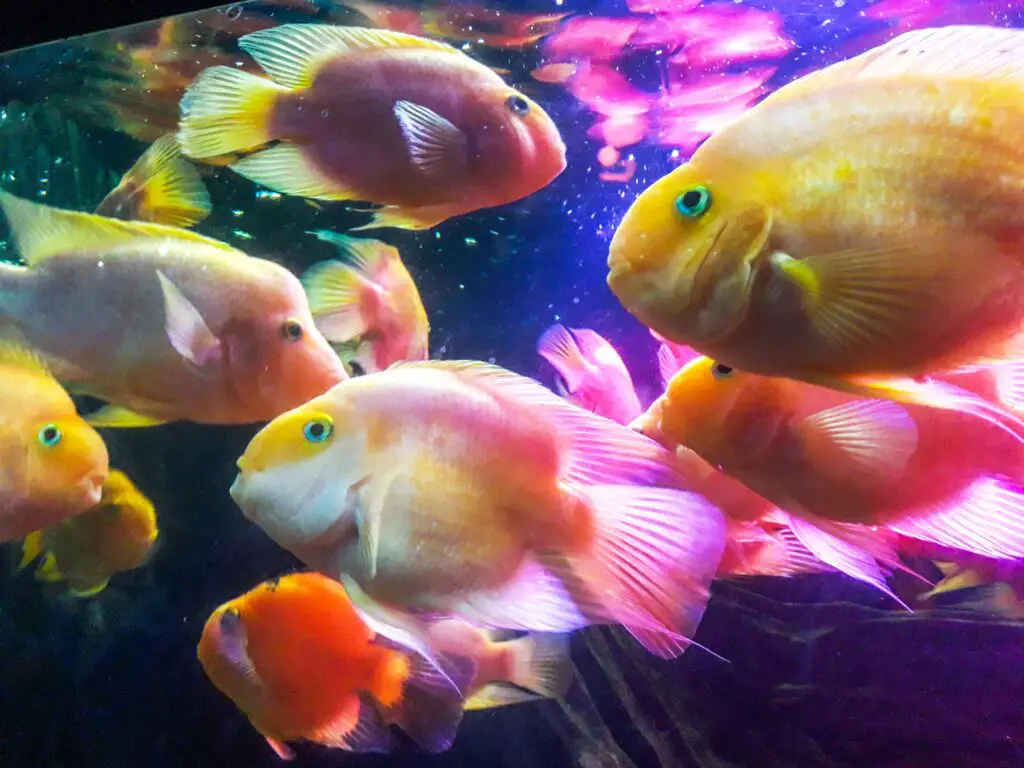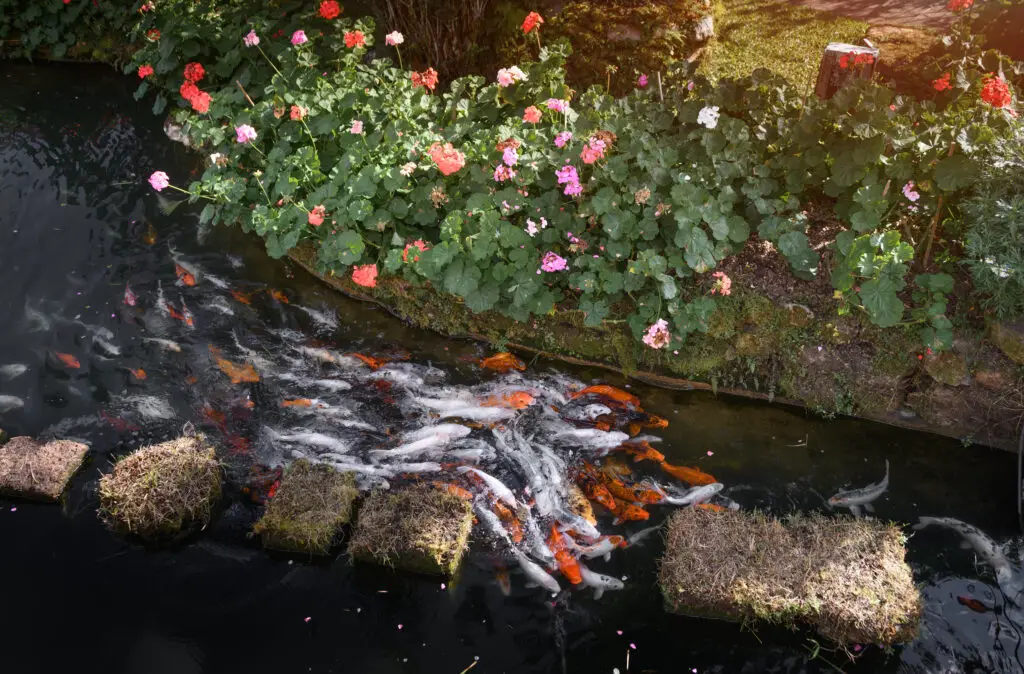 Like its origins, the debated subject of whether parrot fish can live in the same space as koi is blurry. Some will say keeping the two species together is perfectly fine, while others will be against it. 
The parrot fish, also known as the blood parrot fish, was created in Taiwan in 1986. The parental lineage is not fully known, but it is suspected of having been crossed between two American cichlids, a male Midas cichlid, and a female red cichlid.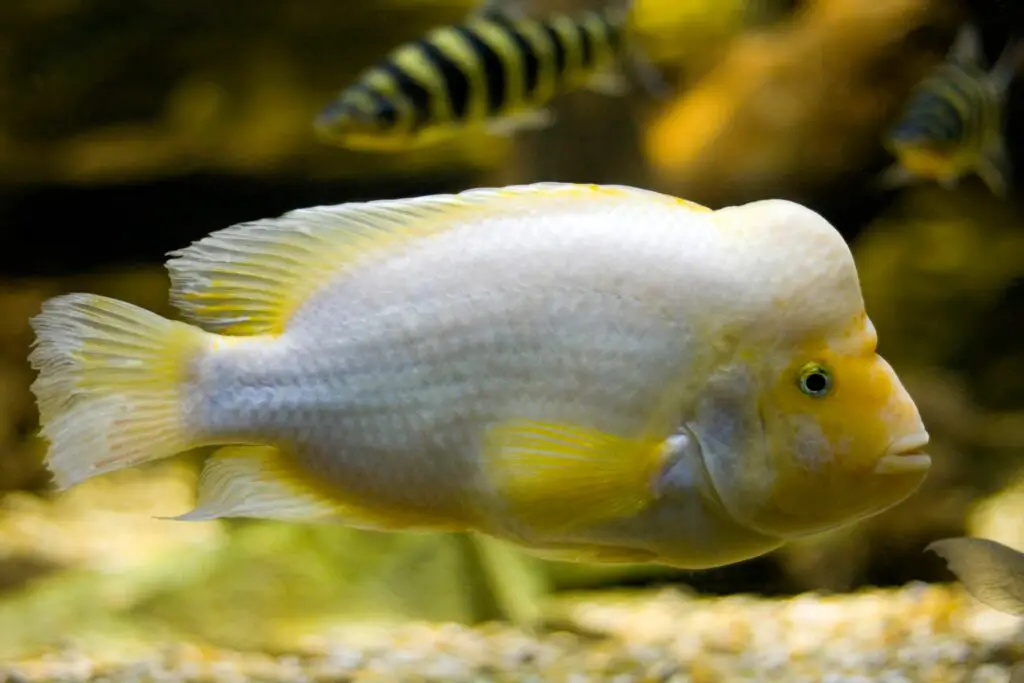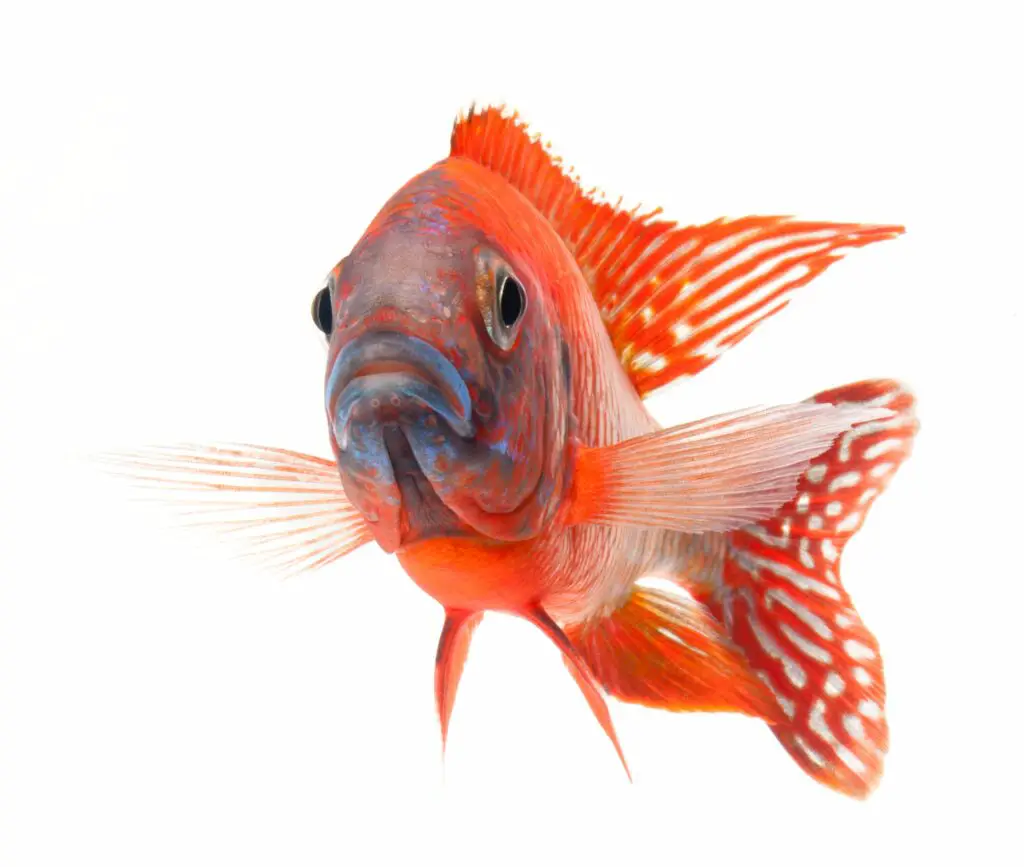 Both fish are social, and although the blood parrot fish is not as aggressive or territorial as its cichlid cousins, they have genetic abnormalities due to their manufactured origins that make them more susceptible to bullying and being overpowered at feeding time.
The outcome created a new species of fish that portrays some genetic abnormalities, such as spinal and swim bladder deformities which can affect their swimming abilities. Added to this is the odd shape of their mouth, which does not close entirely but gives them a cute permanent smiling appearance.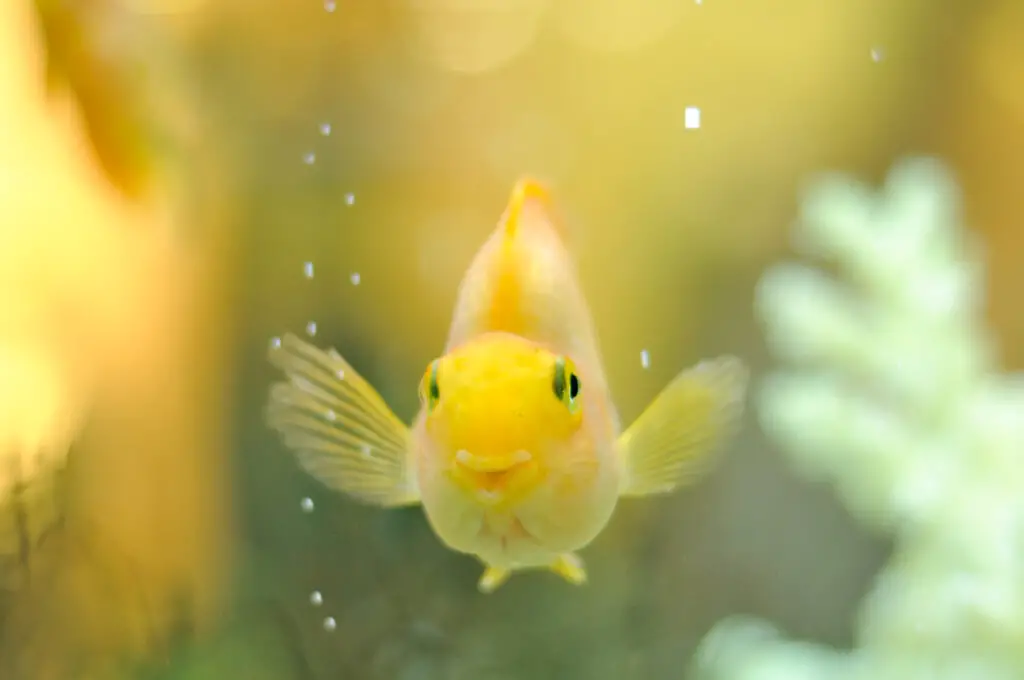 Parrot fish and koi could share a tank at some stage during the koi fish growth stage but will only be tank mates for a short time. Koi fish can be placed in a tank with parrot fish while still in their juvenile stage before heading to the pond as they outgrow their confinements.
If you would like to learn more about what animals can live in a pond with koi fish, you can check out these posts:
Can Axolotls Live With Koi fish?
Can Arowana Live With Koi?
Can Shubunkin Live With Koi?
Can Koi And Turtles Live Together?
Best Catfish For Koi Pond
Can I Put An Algae Eater In My Koi Pond?
Parrot Fish Vs. Koi Fish
Here are some comparisons between the two fish breeds and why they don't make great tank mates.
Comparison chart of parrot fish versus koi fish
 
Parrot Fish
Koi Fish
Care Level
Intermediate
Intermediate
Size
8 inches (20cm)
24 – 36 inches (60 – 91cm)
Habitat
Freshwater tanks, with plants and hiding places.
Freshwater tanks or ponds
Optimum Water Temperature
75°-80°F (23°-26°C)
65°-77°F (18°-25°C)
Water PH Levels
Optimal 6.5 – 7.5 pH
Optimal 7.2 – 7.6 pH
Water Hardness
5-18dGH
9-18dGH
Diet
Omnivore
Omnivore
Tanks Size
50 gallons
200 gallons, limited periods only
Suitable for pond living
No
Yes, preferable
Parrot Fish Vs. Koi Fish: Care Level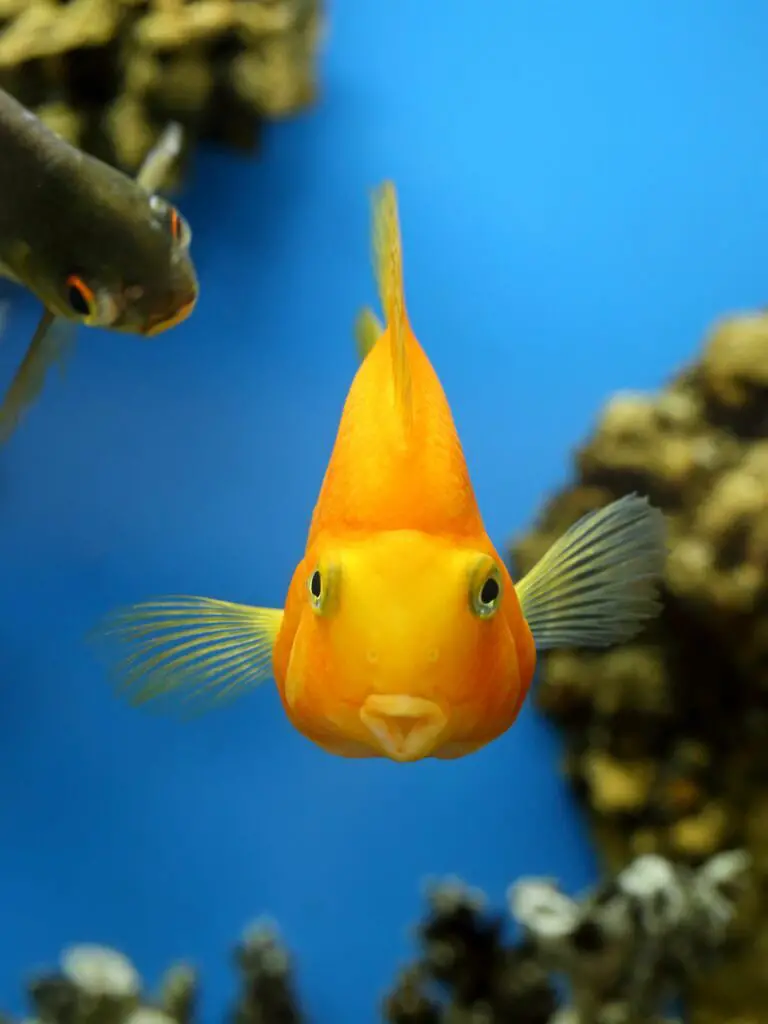 Parrot fish are not ideal for beginners and need a more seasoned aquarist to take care of this species due to its abnormalities.
Koi fish are easy to look after, but they are not suited for beginners as they also have specific challenges requiring a more experienced owner.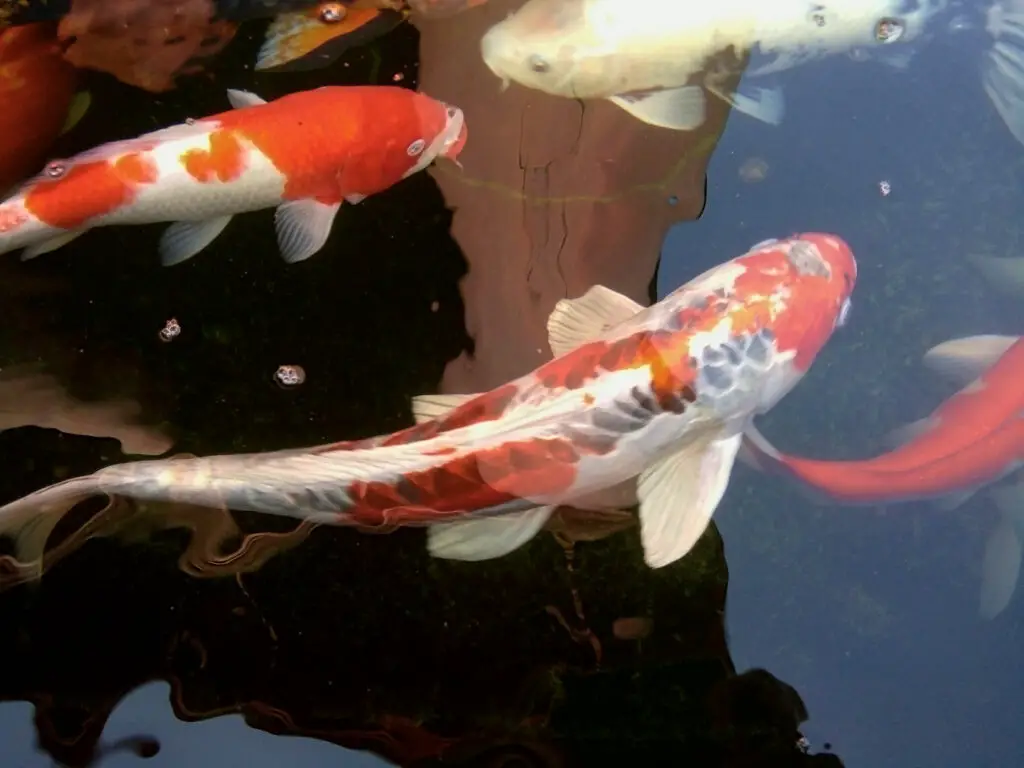 Parrot Fish Vs. Koi Fish: Size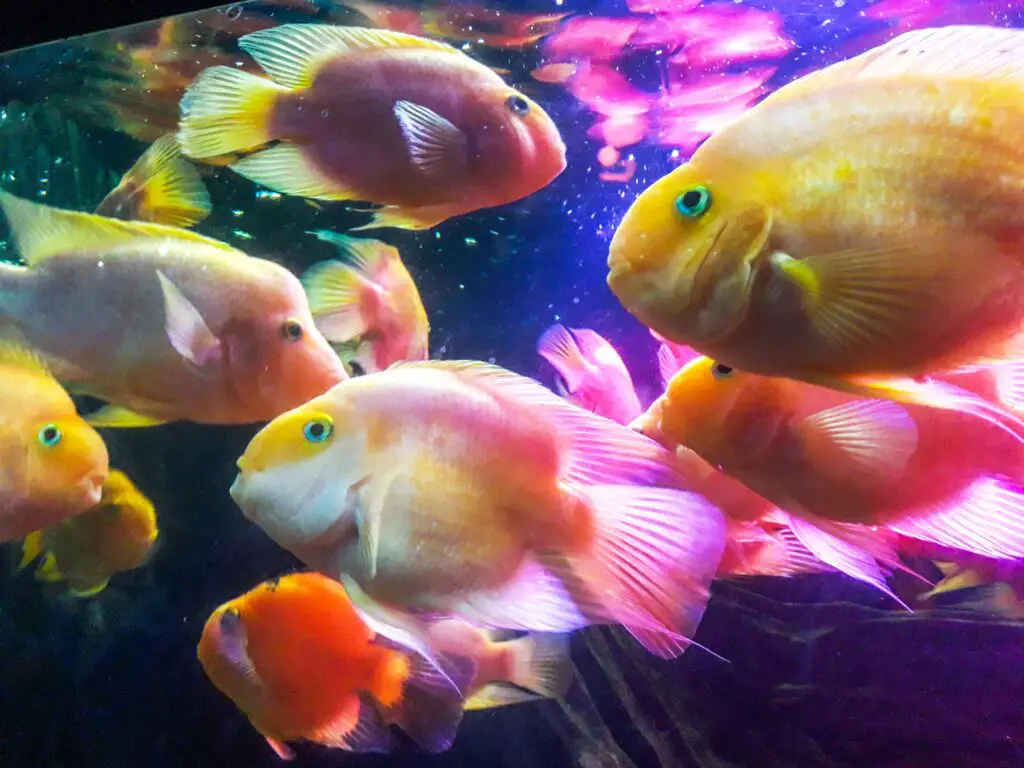 One of the significant reasons why parrot fish and koi fish don't make ideal tank mates is their size. Parrot fish grow to an average size of 8 inches (20cm) when fully grown. 
Koi fish grow over many years and will grow to between 24 to 36 inches, depending on the genetics of the koi. 
While koi fish are still relatively young, they could be placed in the same tank as parrot fish. Still, this communal arrangement will be short-lived as the koi grows bigger and needs to be rehomed into a larger tank or pond to allow the koi to reach its full growth potential.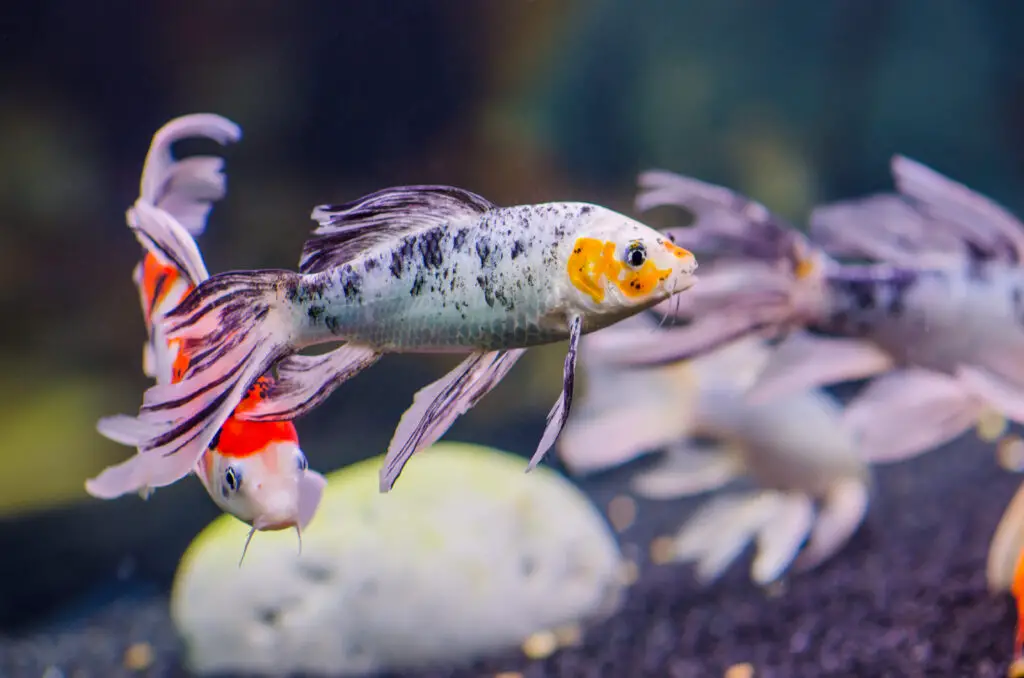 Keeping koi fish in a smaller tank is not ideal, as this stunts their growth. This means that the fish may stop growing externally. In contrast, the gills, spine, and internal organs grow slowly and painfully, killing your fish as the spine creates a hunched-back appearance and organs slowly shut down.
Placing parrot fish in ponds with larger koi fish is less than ideal. This won't make the parrot fish grow any larger than its genetic size allows and opens the possibility of bigger koi fish bulling smaller parrot fish.
Also, see: Can Koi Fish Live In A Tank?
Parrot Fish Vs. Koi Fish: Water Parameters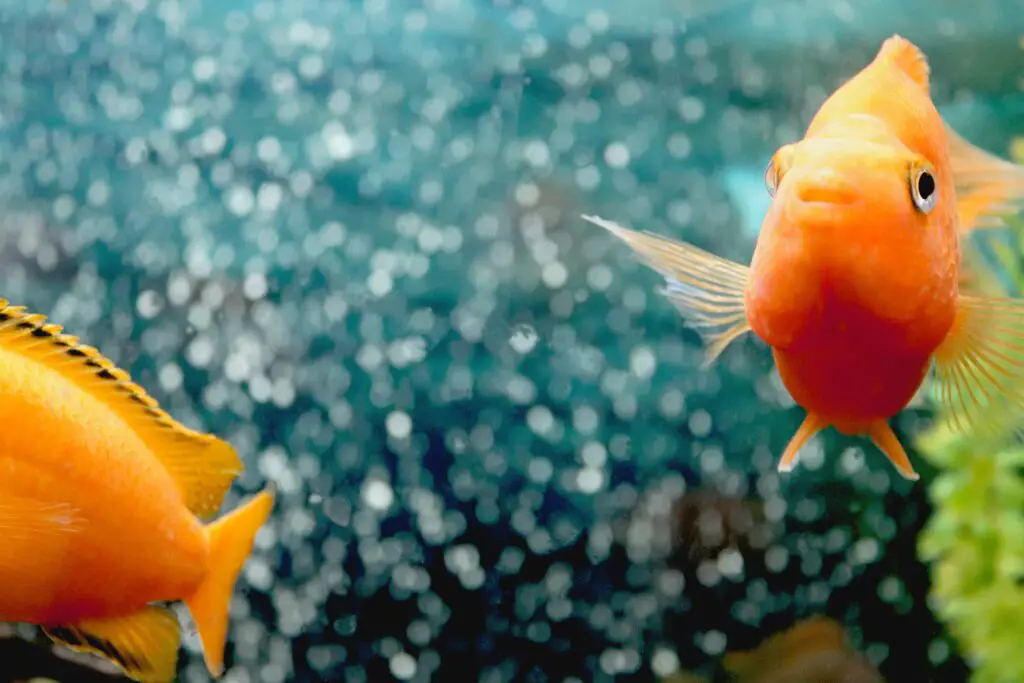 Both these fish are freshwater fish, and their water parameters overlap to a certain extent. Still, the optimal comfort zone of these fish is different from one another.
Parrot fish have an optimum water temperature of between 75°-80°F (23°-26°C) while enjoying a pH level of between 6.5 and 7.5. Water hardness is another parameter that affects fish. Although parrot fish can tolerate hard water, their preference is soft water ranging on the lower scale from 5 to 18 dGH. 
Koi fish, on the other hand, thrive in cooler waters of between 65°-77°F (18°-25°C) with pH levels between 7.2 and 7.5pH, and they are more at home in harder water of between 9 to 18 dGH.
Also, see: How Do You Maintain PH In A Koi Pond?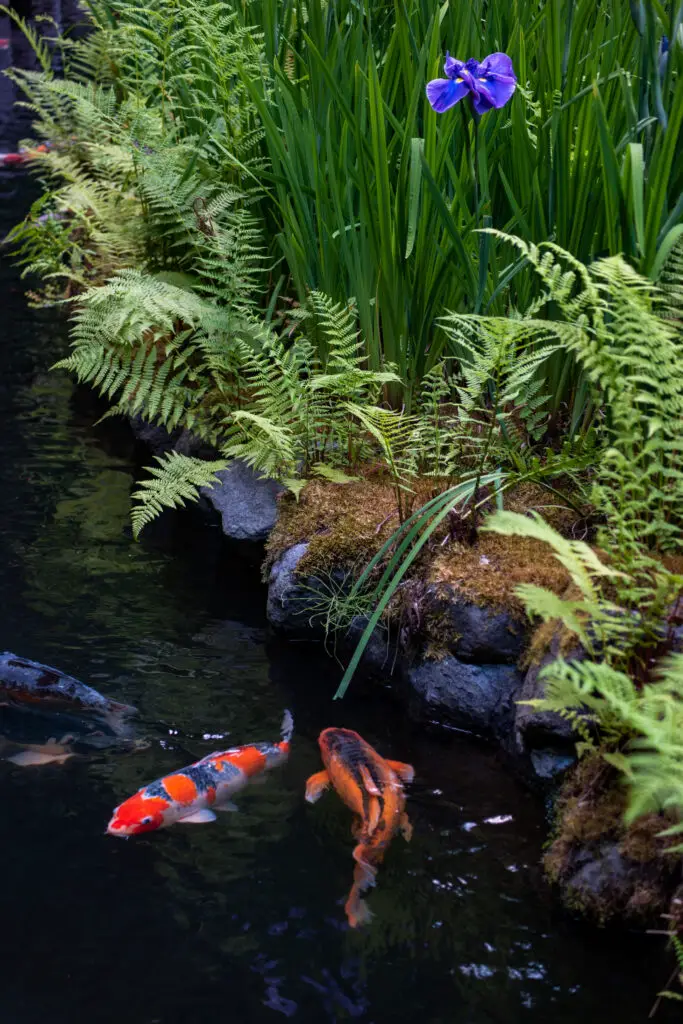 Parrot Fish Vs. Koi Fish: Tank Size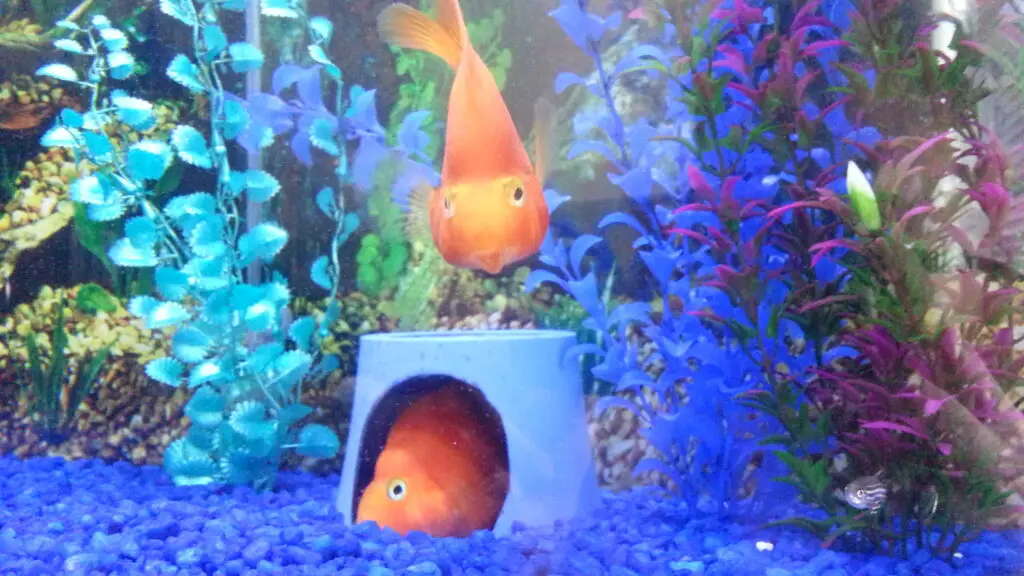 Parrot fish are energetic and playful fish that need enough room to swim and move around. Their tanks should have enough plants and decorations for them to use for hiding and sleeping in. 
A single adult parrot fish needs a minimum of a 30-gallon tank, while a small group of two or three parrot fish can comfortably live in a 60-gallon tank. They are midlevel fish, so they prefer a longer tank than a deep short tank.
On the other hand, koi fish need plenty of room and will outgrow their living quarters rapidly. You could keep a couple of small juvenile koi fish in a 50-gallon tank for a minimum period.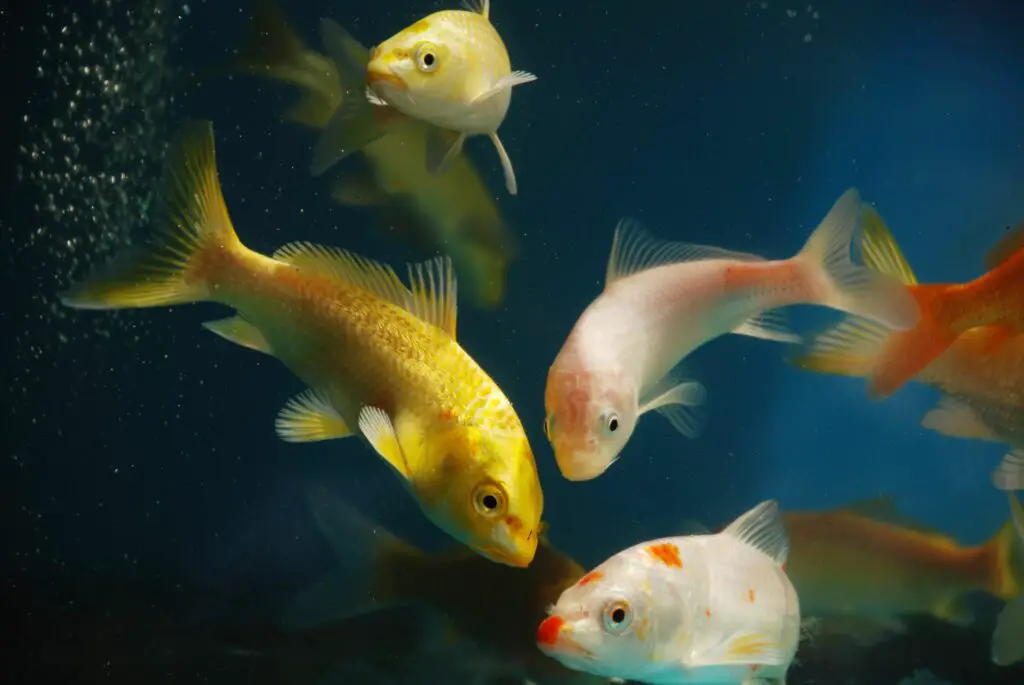 As a fully grown adult, koi fish need a minimum 250 gallons of water per koi and prefer deep ponds that are at the shallowest at 3 feet deep, while thriving in ponds with a depth of 8 feet, especially during the cold winter periods when water surfaces can freeze.
Also, see: How Deep Should A Koi Pond Be For Winter?
Can Parrot Fish Live In A Pond?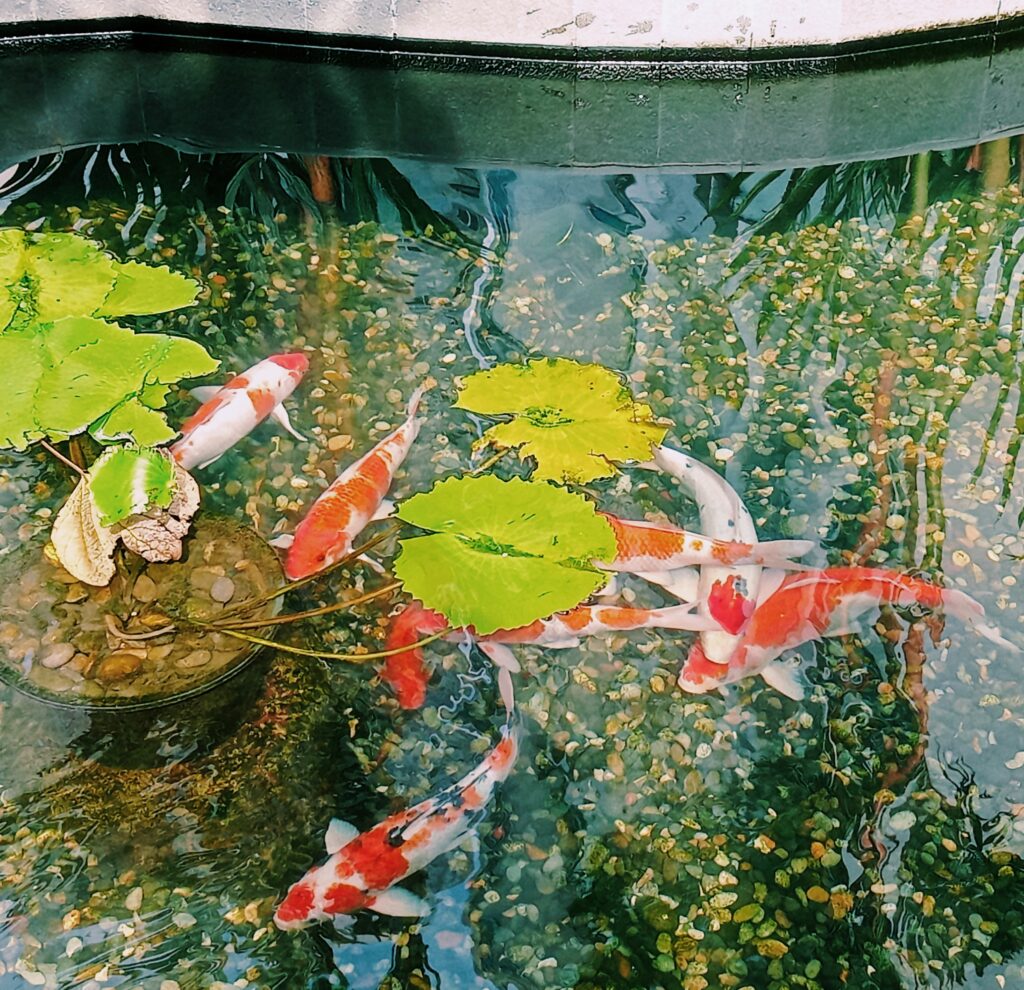 Although it's not entirely impossible for parrot fish to live in a pond, it's not a common practice. They fare poorly in cold water and lose their bright coloring when water temperatures drop.
It's essential to see if your parrot fish gets enough food and doesn't get outcompeted for food by the other fish in the pond.
Another reason is they can frighten easily, so you may not see them that often as they hide under plants and driftwood in the pond, hiding their vivid colors and cute smiling mouths.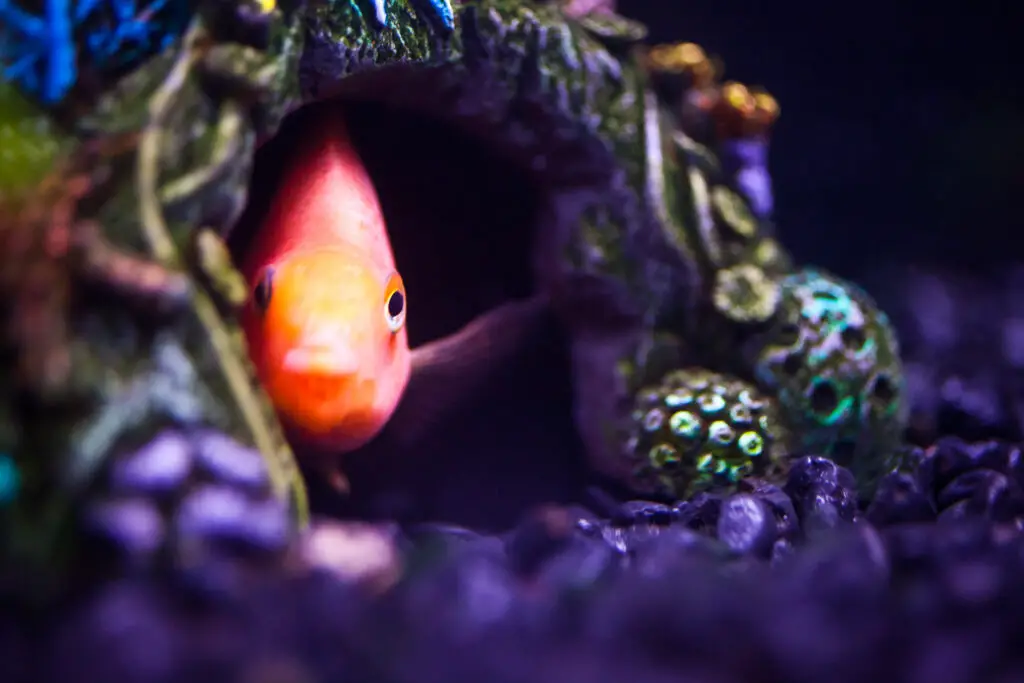 Conclusion
Parrot fish and koi fish may have similar requirements on the surface. Still, for fully grown adults, the mere size difference between them puts these two species into different waters. If you are considering either of these fish, ensure you can provide each species with optimal living conditions and a water area big enough for a comfortable life.
Related Posts
Can Axolotls Live With Koi fish?
Can Arowana Live With Koi?
Can Shubunkin Live With Koi?
Can Koi And Turtles Live Together?
Best Catfish For Koi Pond
Can I Put An Algae Eater In My Koi Pond?
References
https://en.wikipedia.org/wiki/Blood_parrot_cichlid#:~:text=The%20blood%20parrot%20cichlid%20(Amphilophus,water%20parrotfish%20(family%20Scaridae).
https://web.archive.org/web/20060516094604/http://www.aquafriend.com/modules.php?op=modload&name=News&file=article&sid=66&mode=thread&order=0&thold=0
https://web.archive.org/web/20060615071214/http://freshaquarium.about.com/cs/cichlids1/a/bloodparrot.htm
https://web.archive.org/web/20060824030029/http://www.aquariacentral.com/fishinfo/fresh/bparrot.shtml
https://www.quora.com/Can-you-put-a-parrot-fish-with-a-goldfish#:~:text=answer%20views%203y-,No.,of%20ammonia%20in%20their%20waste.
https://www.tfhmagazine.com/articles/freshwater/parrotfish-good-or-bad-for-the-hobby-full-article
https://www.researchgate.net/post/Can-anyone-explain-the-causes-of-stunting-in-fish
https://pets.webmd.com/what-to-know-blood-parrot-cichlid#:~:text=Just%20make%20sure%20you%20use,make%20them%20lose%20their%20color.
https://en.wikipedia.org/wiki/Koi#Health,_maintenance,_and_longevity
https://www.petmd.com/fish/care/evr_fi_facts-about-koi-fish
https://www.vin.com/apputil/project/DefaultAdv1.aspx?pId=24437&SAId=-1&id=9382754#:~:text=Koi%20(Cyprinus%20carpio)%20have%20a,range%20seldom%20cause%20health%20problems.
https://www.hartz.com/habitat-needs-maintenance-outdoor-koi-pondfish/